15th June 2019, 11:05 PM (This post was last modified: 3rd March 2021, 3:17 AM by Addy. Edited 59 times in total. Edit Reason: adding prizes )
Welcome to
Styler of the Month!
i
n order to participate, you must post a screenshot of a pr2 style that matches the category theme of the month.
Every month, a style will be picked by judges that users have submitted. 
deadline for the submissions is the final Friday of the month, and the winner will be announced a few days after the start of the next category. 
don't have all the parts? Pr2 Style Designer lets you customize away!
Have a theme suggestion? Post it here, and it might end up being one!
The category of the month is:

 

Spoiler
Here is a good example of a screenshot: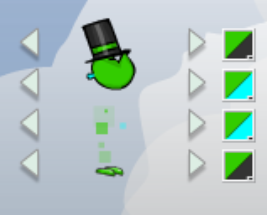 We can see the whole character, and the colors used. 
Judges 
@Addy
@Lego-man945
@Ashley766
@"Jae"
Rules

2 submissions per person per month!
Do not edit your pictures

.


Make sure all submissions adhere to the PR2 and JV rules.


Using the same idea as someone else is ok, as long as the submissions are significantly different and use 3/4 parts differently (with the exception of a use of no hat in both submissions, making it 2/3). This can vary due to the judges' discretion.
Prizes
Epic Brew Set!!
Past Winners
@
JEEJAYEM
@"Al Jolson"
@
Mariano.Z
@
JEEJAYEM
@
VanillaThunder
@
Noah.Kiniy
@JEEJAYEM
@bamsemoms
@JEEJAYEM
@ClassyElephant
@JEEJAYEM
@"Jae"
@
a7x3
@
~JBG~
@
~JBG~
@
Master Raiden
@
Dexterity
@
TRUC
Good Luck!
big shout out to Gram for creating the idea of the contest and Ringstaart for last hosting it. you can view the original thread here.<<